Advantages
Without emissions, noise pollution and fuel costs typically associated with diesel generators. A sustainable and safe alternative.
Big in name. Small in size.

---
Meet the Big Ass Battery
Fast, strong and smart. The Big Ass Battery is a champion in its class. Big in name, but small in size. We provide mobile clean energy storage systems to power anywhere and everything; off-grid on construction sites, large events or for heavy-duty electric vehicle charging. Without emissions, noice pollution and fuel costs. A sustainable and safe alternative.
Warranty up to
10,000 cycles
More about

---
Our advantages

Sustainable
Without the emission, noise pollution and fuel costs typically associated with the use of diesel generators. We use the latest battery technology without cobalt. The batteries are safer compared to lithium-ion, last 15-20 years and are then recycled or used for less demanding applications.

Safe
We use high-quality components in our energy storage systems. For example, we use LFP (lithium iron phosphate) batteries. The batteries are more sustainable and safer than the commonly used lithium-ion.

Scalable
Our energy storage system is compact and easily scalable up to 1.5 MWh per 10-foot container. Customizable to meet your project needs. This is all possible in steps of 75 kWh or a multiple thereof. The Big Ass Battery has a high energy density. This keeps the dimensions of our energy storage systems limited and takes up three times less space than our competitors. He doesn't have such a big ass!

Smart
Our energy storage systems are equipped with an energy management system, GPS and 4G. As a customer you get access to the system via your own online portal. This gives you continuous real-time insight into the performance of your energy storage system. We can monitor and report the status of the battery storage remotely. In addition, continuous measurements help us to perform preventive maintenance and detect and resolve early errors.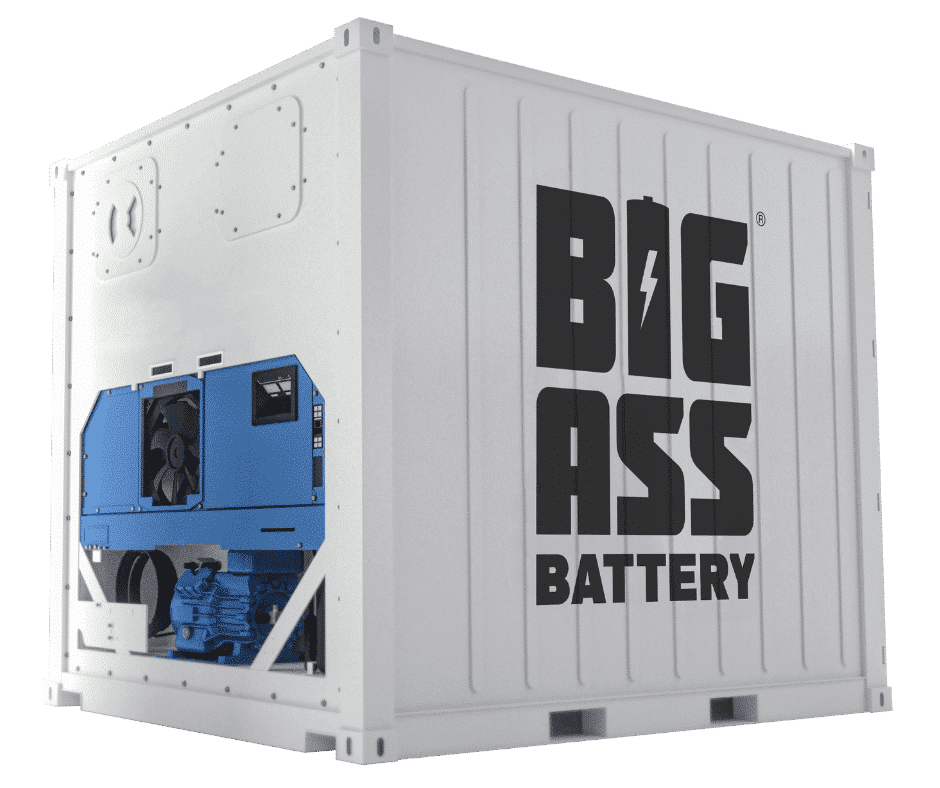 What you see is what you get

---
High-quality battery technology
Our battery systems are compact 10-foot containers with modern high-quality batteries. Using the best LFP-batteries (Lithium-Iron-Phosphate), our energy storage systems are fundamentally safe and last longer compared to lithium-ion batterysystems. Without loss of performance. Because unlike many other battery containers, you can use the capacity of our batteries to the full 100%. What you see is what you get!
Power anywhere and everywhere with clean mobile energy

Safe battery containers with modern technology

Compact design and easily scalable